By CHENG Lu
Alibaba Group is winding down Nice Tuan, one of its community group buying businesses. Jiemian News has learned that operations have all but ceased. All that remains to be done is settling wages and payments to suppliers.
A supplier told Jiemian News that he had received less than a third of the amount he was owed. "They owed me 200,000 yuan (US$31,460). I agreed to their offer in February and got the money the next day. At least I got something back." Suppliers who were less eager to accept the company's offer recovered only 20 percent. Wages have not been paid in full either.
Back when a new community group buying popped up every other week, profitable Nice Tuan looked the likely winner. But even the backing of Alibaba, the biggest dog in the yard, wasn't enough. Early contenders Tongcheng and Chengxin, both once valued at more than US$1 billion, have also gone bust. The battleground has certainly cleared, but the last apps standing - Meituan, Pinduoduo, and Xingsheng Youxuan – have all taken a beating and were forged in the fire of a bitter price war. How they will cope in times of price peace, no one really knows. None is in the mood to celebrate.
Sustainability matters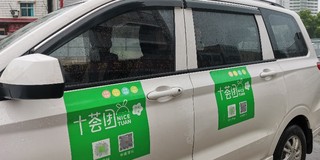 "If you can't prove yourself by Series C, investors will stop giving you money," WANG Peng, co-founder of Nice Tuan, once said.
When Nice Tuan was founded in April 2018, community group buying was "the next big thing." The startup didn't rush to raise money, however, but focused on operations and conserving cash instead. Wang, an angel investor and long-time associate of the founding team said at the time that resilience and financial management were more important than the short-term sales figures. Sustainability mattered.
Even when Nice Tuan merged with Niwonin in August 2019, it refrained from expansion. In an internal letter, CEO CHEN Ying told his team to prioritize capacity and customers, because community group buying was, "by nature, a grocery business, not an internet business."
Nice Tuan adapted to local tastes, making scaling up difficult but winning good reviews. Generally regarded as having the best products, by mid-2020, Nice Tuan was running at a profit.
By then, every tech giant was sinking money into community group buying. Nice Tuan and Alibaba were feeling pretty cozy back then, having been through three funding rounds together. Alibaba put its mighty web traffic and logistics at Nice Tuan's disposal and, in return, Nice Tuan helped Alibaba's other grocery businesses with sourcing, a happy, if unequal, marriage. Then in early 2021, Xingsheng Youxuan secured US$3 billion of funding and Nice Tuan quickly announced a US$750 million round, led by Alibaba, the biggest fundraising thus far.
An early investor in Nice Tuan shared his concerns with Jiemian News in an interview around the time. There was no way, he insisted, to compete on price without raising a lot more money. Everyone else was selling at a loss to win market share.
Money can ruin even a marriage like Alibaba's and Nice Tuan's. Soon after the cash was handed over, the two began to bicker. Alibaba had just formed its MMC (Maimaicai: "grocery shopping" in Chinese) division to build its own community group buying brand. MMC was led by a former Alibaba bigwig who had access to all that Alibaba had to offer. At a press conference, Alibaba declared that Nice Tuan was not a priority. "We want to do some community group buying ourselves," said the announcement.
On the surface, Nice Tuan had never lost its independence. But now there were budgets and targets and cuts to be made. Nice Tuan had to expand. The workforce ballooned from 4000 to 9000 in four months. Profitability gave way to market share.
Nice Tuan, which never entered a new city unless it was sure to make money, was now making losses. As it expanded into small towns, costs rose disproportionately. Goods were sold at below cost to entice customers. Fake buyers appeared at the end of each month to meet sales targets. Regulators were alarmed.
Without warning
Nice Tuan reportedly had a sales target of 80 billion yuan in 2021 but brought in no more than 2 billion in a good month. In March, Meituan, Nice Tuan, Pinduoduo and Xingsheng Youxuan, were each fined 1.5 million yuan for fraud and dumping. In May, Nice Tuan was fined for misleading advertising. "The fines really tied our hands," a former employee said. "We couldn't do the kind of promotions our competitors were doing, which really hurt sales."
Alibaba's US$750 million yuan was quickly running out. The bulk of another promised US$1.2 billion didn't materialize. Alibaba coughed up US$300 million, but that was it. In an August memo, Chen told his staff to expect cuts.
And cuts there were. The Nice Tuan balloon did not exactly burst but quickly and noisily deflated. Having expanded to over 2000 cities and towns, in the blink of an eye, there were only five. "Cities with gross margins of less than 15 percent were all shut down. We once had 10,000 staff. The target was to keep 1,500 only," a former employee said. A community leader in Guangdong told Jiemian News that Nice Tuan shut down her pick-up spot "without warning."
Since then, Alibaba seems to have all but abandoned Nice Tuan. An agreement dated August 2021 dictated that Nice Tuan would not get new investment unless it turned a profit. "Alibaba basically said, we can still give you money but there are many strings attached. If you can make money, do it. If you can't, we'll do it ourselves."
The falling out became more evident. Alibaba merged one of its group buying apps, Hema Jishi with Taobao's grocery business. A senior manager hinted that Alibaba would stop directing web traffic to Nice Tuan. WANG Tingxiang, head of the new unit, told reporters that "Nice Tuan has nothing to do with Hema Jishi."
Uncommon outcome
Caution and common sense in the early days haven't saved Nice Tuan in the race to the bottom. Since last August, Nice Tuan has been savagely self-harming in a bid to save itself. The business model has collapsed.
Chen Cheng foresaw the end in 2020, long ago now. He predicted that competition would be unlike anything before. His belief, he wrote, was that when the bargains ran out and prices reflected true value, customers would vote with their wallets. They would choose companies with the best service and experience. That is how the market works. Unfortunately, Chen was not describing customers voting with their wallets, as they have done, quite the opposite.